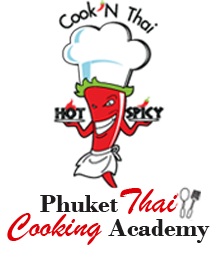 #1 Thai Cooking School in Phuket, Thailand
Do you want to learn new skills? Maybe you just want to take your taste buds to that next level?  When it comes to fine cooking, either way, we have the solution for you. We understand more than anyone how important it is for you to venture out into the world of food, and this is especially the case if you want to surprise your friends and family with your creations. This is why we have a range of Thai cooking classes available for you to choose from, and in each one, you will learn a valuable skill that will give you a bit more of an edge when you are in the kitchen. Our cooking classes in Phuket are ideal for those of varying experience levels, and we are always more than happy to cater our classes so they meet your needs. You know you can count on us to go above and beyond for you in every possible instance.
Of course, our Phuket cooking school is one of the best in the area, and we always make sure that you are given all the help and support you need throughout the process. Our Thai cookery school will also help you to refine any skills that you have at the moment while showing you plenty of hints and tips that some of the finest chefs in the industry use. This can range from chopping styles to flavor infusing and even the use of herbs and spices.  With us, you can rest assured that our instruction is professional and top notch.
If you want to find out more about our Thai cooking school, please do make sure that you get in touch with us today. We would love to hear from you.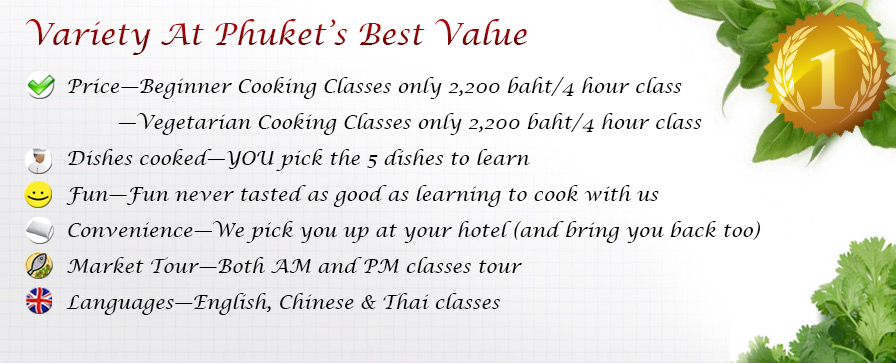 1/2 Day: 1,900 incl. transportation* (5 Dishes)
Full Day: 2,900 incl. transportation* (10 Dishes)

AUTHENTIC – FUN – PROFESSIONAL

PHUKET'S MOST SCENIC COOKING SCHOOL
Our Thai cooking school offers hands-on 1/2 day and full day classes–beginner, vegetarian, private classes, professional Thai cooking courses (1-8 weeks), fruit carving and team building events.  Our English-speaking Thai chefs will teach you authentic Thai cooking in our comfortable and scenic professional classrooms which are conveniently located on a hill 10 minutes from Patong Beach in Kathu.  First, our chef instructor will demonstrate each dish, and then you will have an opportunity to duplicate what she shows you.
Everyone loves Chef King: Take a look at our
TripAdvisor

reviews HERE
VEGETARIAN COOKING CLASSES

: Click HERE
BEGINNER COOKING CLASSES (1/2 Day)
Cost: 1,900 Baht/3.5 hours class (half day)

IMMERSION special–take 2 classes (on the same day) for only 2,900 Baht (full day)

Basic Thai Cooking course for 5 full days
7 unique 4 hour classes
25 dishes available to learn
Pickup at, and return to, your hotel*

Minimum class size:  one student

Market tour for AM & PM classes
Learn basic fruit carving or making coconut milk
AM class 9:00-12:30; PM class 2:00-5:30
Monday-Sunday, 2 classes daily
5 dishes/class
Recipes of all dishes learned

Certificate of Achievement awarded
Green curry paste (prepare) (Nam Prik Gaeng Kheao Wan)
Green curry chicken (Gaeng Kheao Wan Gai)
Pomelo salad (Yam Som-O)
Hot & sour prawn soup (Tom Yum Goong)
Chicken satay with peanut sauce (Gai Satay)
Market tour
Basic fruit carving
Red curry paste (prepare) (Nam Prik Gaeng Phet)
Red curry with chicken (Gaeng Phet Gai)
Thai-style fried rice noodles (Pad Thai)
Stir fried chicken with cashews (Gai Pad Med Ma-Muang)
Thai fish cakes (Tord Man Pla)
Market tour
Making coconut milk
Massaman curry paste (prepare) (Nam Prik Gaeng Masaman)
Massaman curry with chicken (Gaeng Masaman Gai)
Papaya Salad (Som Tam)
Stir-fried chicken with basil (Gai Pad Kra Pao)
Sweet & sour vegetables with chicken (Pad Preaw Wan Gai)
Market tour
Basic fruit carving
Yellow curry paste (prepare) (Nam Prik Gaeng Ka Ri)
Yellow curry chicken (Gaeng Ka Ri Gai)
Pineapple fried rice (Khao Pad Sapparot)
Spicy Grilled Chicken Salad (Nam Tok Gai)
Stir-fried black pepper beef (Nua Pad Pik Thai)
Market tour
Making coconut milk
Panang curry paste (prepare) (Nam Prik Gaeng Panang)
Panang chicken (Gaeng Panang Gai)
Fried spring rolls (Por Pie Tord)
Chicken in coconut milk (Tom Kha Gai)
Mango with coconut sticky rice (Khao Neaw Moon)
Market tour
Making coconut milk (Wednesday AM)
Basic fruit carving (Friday PM)
SATURDAY "BEST OF THAILAND"
AM CLASS:
Green curry paste (prepare) (Nam Prik Gaeng Kheao Wan)
Green curry chicken (Gaeng Kheao Wan Gai)
Thai-style fried rice noodles (Pad Thai)
Fried spring rolls (Por Pie Tord)
Stir-fried chicken with basil (Gai Pad Kra Pao)
Market tour
Making coconut milk
Some of the benefits of hands-on Thai cooking at our Academy are:
Instruction by our culinary chefs in:

Preparation of 65 Thai meals such as Massaman Gai, Som Tam, Pad Thai, …
Preparation of 7 curry pastes (panang, red, yellow, green, massaman, kao soy, jungle)
Making sticky rice
Making coconut cream and milk
Basic fruit carving
Use of woks and traditional Thai cooking utensils

Payment:

Payment for all regular Thai cooking classes is in cash only (Thai baht), usually at the completion of your first class.

Visit :

An authentic Thai produce and seafood market

Receive :

FREE tea, coffee, and water during class
A FREE recipe book
A Certificate of Achievement by taking 1 or more classes
FUN & SATISFACTION by learning to cook Thai and eating what YOU cook!!
FREE hotel pickup and return*
Take a look at our FACEBOOK page: https://www.facebook.com/PhuketThaiCookingAcademy
VEGETARIAN & VEGAN DISHES:
Our chef will make adjustments to recipes as needed. Substitutions such as tofu, soy proteins, mushroom sauce, soy sauce, etc can be used. Please advise when booking of your needs. To see our special Vegetarian Thai Cooking Classes, please click HERE.
Learning to cook Thai is fun maak maak (lots). Class is more like going to a fun dinner party where everyone interacts, prepares ingredients for cooking, uses traditional woks and cooking utensils, and finally gets to eat each delectable creation. It's so much fun to make coconut milk, sticky rice, curry pastes, great tasting Thai meals. We offer 7 Vegetarian Thai Cooking Classes, 7 unique Regular Thai Cooking Classes, private classes, and Professional Culinary Chef Courses lasting as long as 8 weeks.
We are conveniently located on a scenic hill in Kathu at 81/23 Soi Chang. Our classes are small and personal. To get a really good feel for handling woks, food preparation, and meal preparation, we recommend that you take more than one class, but this is "up to you." Special times, private classes, group classes, fundraisers, birthday parties, and team building events are available. For more on this, please refer to our "Team Building Phuket" page.
While in Phuket, there is no better place to learn to cook world-renowned Thai food. It's time to give yourself a gift—the gift of cooking knowledge which lasts a lifetime and will make your friends back home envious. We are here to teach you and entertain you. So, what are you waiting for?
*Free pick up and drop off provided for guests in Patong Beach, Karon Beach, Kathu, and Phuket Town.  Free transportation is provided for group sizes of three or more anywhere on the island.  Additional charges for smaller groups may apply; contact us for details.
We are available to answer your questions and to handle your booking. To contact us, please call Brian at:
+66 929-626-076-(M), E-mail Us or send an email to Brian@PhuketThaiCookingAcademy.com.