Do you want to take Thai cooking classes in Phuket? Maybe you just want to learn how you can make your own Thai red curry paste so you can amaze your friends and family the next time you have a gathering. Whatever you need, our cooking classes in Phuket will give you a hands-on experience that's fun, authentic and most of all full with learning opportunity. We have air conditioned classes available for beginners, vegetarians, professionals and more, not to mention that we will always be there to support you if you ever have any questions, or if you need some added assistance. Our Phuket cooking classes doesn't just show you how to cook your dishes however, because it also shows you how you can prepare your ingredients to get the maximum flavour. This is just one of the many things that help us to stand apart from our competition and our customers are always coming back for more lessons because after the first one is over, they just can't wait to see what else they can learn.
We have fun and educational classes available if you want to take a quick lesson, and we also have courses if you want to take a more in-depth course over a couple of weeks. All of our courses are taught by our experienced and friendly chefs. That is why we get as involved as you are, making sure that everyone is having fun as well as making sure that you can produce a 5 star dish that will keep everyone coming back for more!
If you want to find out more about our cooking classes or if you want to find out more about what we can do for you then please make sure that you get in touch with us today.
BEGINNER THAI COOKING CLASSES
(1/2 Day)
Cost: 2,200 Baht/3.5 hour class (half day), paid in cash or by credit card (+3%)

FREE round trip transportation from your hotel*

4 dishes/class

27 dishes available to learn
Market tour for AM & PM classes
Air conditioned
2 classes daily: 9 AM & 1:30 PM

Monday-Sunday, 2 classes daily

Recipes of all dishes learned

Certificate of Achievement awarded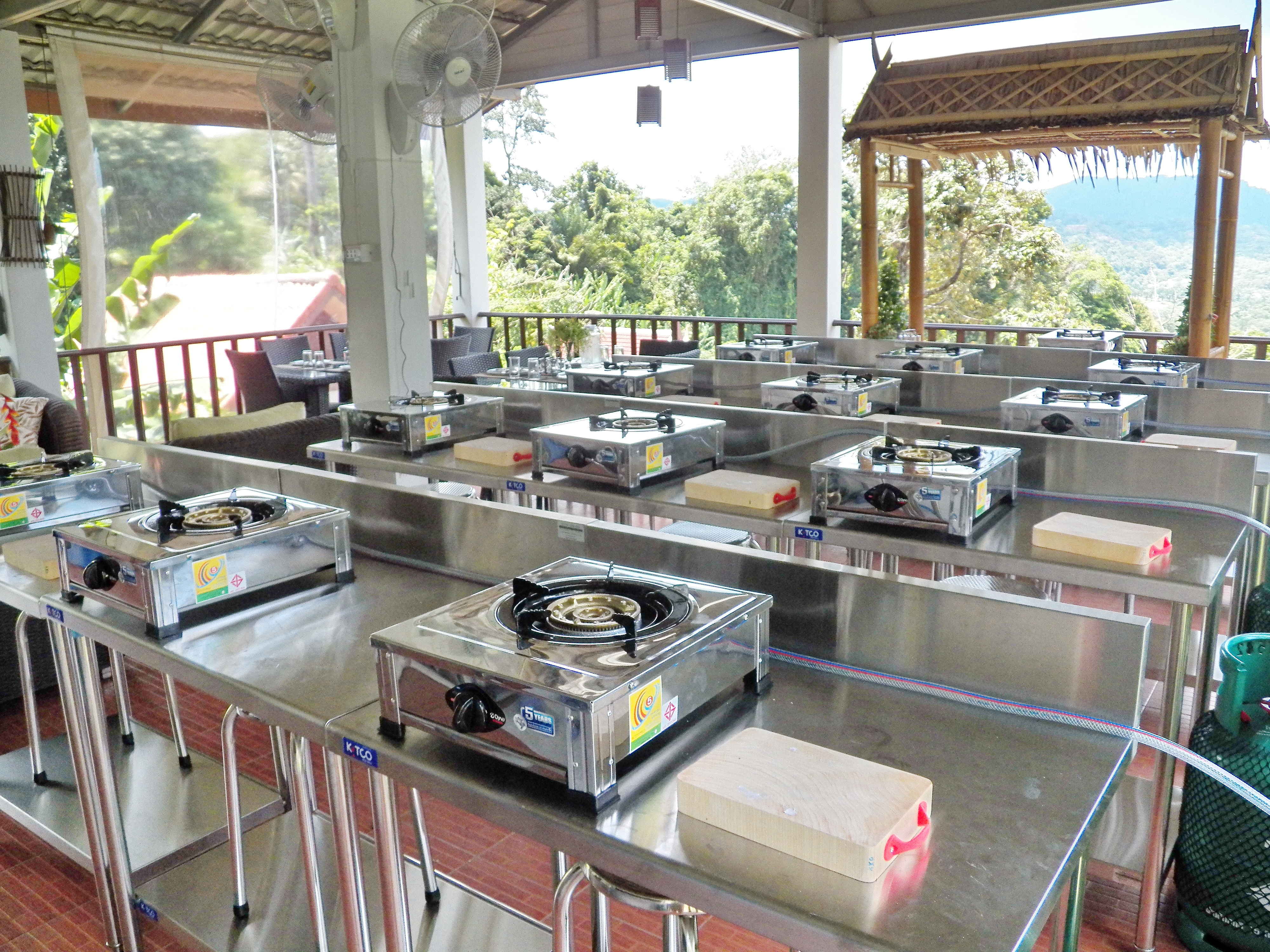 Some of the benefits of hands-on Thai cooking classes at our Academy are:
Instruction by our culinary chefs in:
Preparation of 16 Thai meals such as Massaman Gai, Som Tam, Pad Thai, …
Authentic use of curry pastes such as panang, red, yellow, green, massaman, kao soy, and jungle.
Use of woks and traditional Thai cooking utensils
Payment for all regular Thai cooking classes is in cash (Thai baht) or by credit card (+3%), usually at the completion of your first class.
Visit :
An authentic Thai produce and seafood market
Receive :
FREE tea, coffee, and filtered water during class
FREE internet access to numerous recipes
A Certificate of Achievement
FUN & SATISFACTION by learning to cook Thai and eating what YOU cook!!
FREE hotel pickup and return*
*FREE transportation is provided for Patong, Phuket town, and Kathu.  FREE pick up and drop off provided for 3 or more guests from anywhere on Phuket Island.  For 1-2 students outside of our complimentary serviced area, an additional fee of 400 Baht/pax will apply.  Contact us for details.
For any questions, please call Brian at +66 098-885-4462.